Meet Dr. Julie Babcock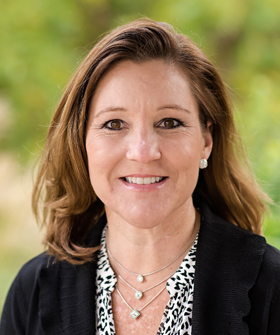 Dr. Babcock has been in private practice since 1996. She grew up in Tulsa and then attended the University of Kansas. Her D.D.S. (doctor of dental surgery) degree is from the University Of Oklahoma College Of Dentistry. After 9 years of mentoring associateships in Johnson County, she opened her current practice in 2004. She is married with 4 children ages 14-18. They all attend Blue Valley Schools.
The first 9 years taught her about different styles of practice and levels of care. During several associateships, volume and speed were the main emphasis. This method of dentistry is sadly the most common. It was exhausting and Dr. Babcock felt that patients were not receiving the complete, quality care they deserved. Most of these unfortunate patients never learned what dental disease is, why they had it, and why their problems kept recurring. They found themselves constantly needing care and spending money.
Dr. Babcock discovered that a true relationship with her patients is invaluable. Trust isn't built in a 20-second exam. It is built by spending time listening and understanding each person's individual needs, fears, and expectations. Her patients benefit from the exceptional experience her small practice offers. She believes Small is Beautiful and treats one patient at a time. Her definition of success is leaving at the end of the day knowing that she changed lives.
Dr. Babcock invests extensive amounts of time and financial investment in professional development. The diploma is only a license to begin the learning journey. She is a long term member of the Great Plains Study Club, a local branch of the Seattle Study Club. This elite group emphasizes continuing education and the highest standards for the 30 doctors involved. She is also an alumni of The Schuster Center for Professional Development and ACT Dental.
She is heavily involved with the world renowned Pankey Institute in Florida. Dentists come from all over the world in small groups to study. There is strong emphasis on the TMJ, chewing muscles and jaw pain and function. Dr. Babcock routinely and successfully treats jaw and face pain related to the TMJ. She travels the country to learn as much as possible about this complicated system.
The Texas Center for Occlusal Studies and Minimally Invasive Dentistry is for high level dentists who desire a true understanding of the relationship between the TMJ, muscles, nerves, and teeth.  This is a very advanced course designed to treat TMJ disorders from the slightest disharmonies to the most complicated TMJ problems.  Full mouth restorations can be done with non invasive composite instead of destructive crowns and expect it to last in a perfectly balanced system.  This rejuvenating, life enhancing dentistry enriches the lives of patients who receive it.
Dr. Babcock is a member of IAOMT, International Academy of Oral and Medical Toxicology.  We are dentists, physicians, and research professionals dedicated to providing scientific resources to support new levels of integrity and safety in health care. Being affiliated with this group requires a strong commitment to the health of the whole body, not just the teeth. We look at natural remedies and the cause of disease, not just symptom treatment.  We treat patients with safe materials that are non toxic. We are committed to the safest mercury removal protocol possible as determined by the IAOMT.